Dr. Broussard
The Waggin Train Veterinary Clinic
BarkLimiter Deluxe
Help Bring Your Dog's Unwanted Barking Under Control
Works right out of the box to help deter nuisance barking — lasts up to 3 months on a full charge with your Li-ion rechargeable battery¹
Choose the correction setting or combination that's right for your dog — tone and vibration or 7 stim levels; fixed correction or Autorise adjusting level optimization
Slim, convenient form factor features comfortable plastic contacts in long and short sizes to accommodate thick or short coats
Works with the Garmin Canine™ app on your smartphone² to let you adjust settings and review bark correction data
Use with the included black strap, or easily snap onto your dog's existing collar (up to 1" wide and up to 0.12" thick)

Sure, you love your dog. But that frequent, noisy barking? Not so much. That's why Garmin developed BarkLimiter Deluxe. This bark correction device uses accelerometer-based bark identification to distinguish between repetitive barking and other sounds. Then it corrects bad barking behavior with on-collar tone and vibration or 7 safe stim levels.
Keep the Peace with Your Pet
The slim, lightweight BarkLimiter Deluxe device attaches comfortably to your dog's collar and senses throat vibrations to virtually eliminate false corrections from external noises such as the barking of other dogs nearby. The unit's selectable long or short plastic contact points adapt the device to work on all dog breeds and coat thicknesses. Plus, the rechargeable lithium-ion battery keeps the power coming — and the on-collar corrections working — for months at a time.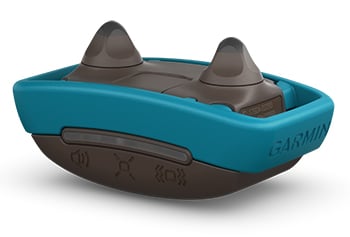 Autorise Technology
As the responsible pet parent in your family, you want to modify your dog's bad barking behavior without overcorrecting. BarkLimiter Deluxe offers advanced Autorise technology to optimize the corrections your dog receives. Autorise starts at the lowest correction level and gradually adjusts to a level to stop unwanted barking without rising further. This gives you immediate relief from nuisance barking. Right out of the box, BarkLimiter Deluxe lets you select tone, vibration or gentle Autorise stim corrections — so you can quickly and easily choose the prompts that work most effectively for your dog. For your own visual reference, a status LED light on the device indicates battery life, bark detection and correction.
Control with Your Smartphone
For even more capability, BarkLimiter Deluxe works with the free Garmin Canine app on your compatible smartphone or tablet². Use the app to set up your BarkLimiter Deluxe device and enable your phone or tablet to serve as a wireless handheld component for your system. The app lets you remotely adjust settings and select automatic or manual stim levels. Plus, you can also review bark history data to see what times of day your dog tends to trigger corrections.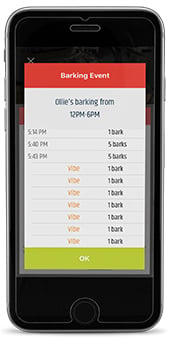 Delta Sport XC
Simple and Effective Electronic Dog Training in Your Hands
Intuitive 3-button hand held controller with easy to read LCD and built-in BarkLimiter™
36 levels of momentary and continuous stimulation plus tone and vibration
Changeable/replaceable contact points — long and short
5 correction configurations for different behavioral issues
Train 1, 2 or 3 dogs, settable on the handheld (with purchase of additional dog devices)
The Delta Sport XC trainer from Garmin, with proven Tri-Tronics® technology, gives dog trainers more control with more simplicity. The easy-to-use, 3-button handheld controller with improved false-correction control, easy-to-read LCD display and compact dog device with changeable contact points (long and short) gives you 36 professional levels of continuous and momentary stimulation plus tone and vibration, 5 correction configurations and the ability to set the device to train 1, 2 or 3 dogs from up to ¾ mile away (with purchase of additional dog devices). Sport XC features a fully adjustable BarkLimiter with Advanced Bark Correction for more effective training in the field and a quieter kennel at home.
Simple and Effective
Delta Sport XC is ergonomically-designed to require only 1 hand to operate with 3 front "action" buttons for stimulation, tone and/or vibration. Side buttons and an easy-to-read LCD let the trainer switch easily between training configurations and different dogs being trained. The slim, compact, dog device comes with interchangeable long and short contact points for all breeds and coat thicknesses and has an effective range of ¾ mile.
Three Ways to Train Your Dog
Delta Sport XC offers dog trainers the option of using continuous and momentary stimulation, vibration or tone. Or, use all 3 in 1 session. With 3 correction configurations (viewable in the LCD display), the trainer can select the training option best suited to the situation and dog temperament. Delta Sport XC offers the ability to control up to 3 dogs (with additional dog devices sold separately) and quickly change between them.
Built-in BarkLimiter
Delta Sport XC features an adjustable, controllable BarkLimiter with Advanced Bark Correction. BarkLimiter recognizes the difference between wanted and unwanted barks as well as vibration from scratching and scraping or from other dogs' barks. Thus, it virtually eliminates false and over correction. You can adjust the levels on the BarkLimiter and control it from the handheld allowing you to train even in BarkLimiter mode.
Tough, Water-resistant, Long-lasting
Like all Garmin outdoor products, Delta Sport XC is designed to be effective, rugged and water-resistant (IPX7) with a long lasting rechargeable, lithium-ion battery in both the transmitter and dog device.
Replacement Collar
Personalize your Delta Sport XC dog device by purchasing one of our polyurethane-coated accessory collars (multiple colors available, purchased separately). Or add even more style with a 3/4-inch woven nylon Lupine Collar (multiple versions available, purchased separately).
Alpha 100
Multi-dog Tracking GPS and Remote Training Device in One
Tracks up to 20 dogs or buddies from up to 9 miles (TT 15) or 4 miles (TT 15 mini) away
18 training levels of continuous and momentary stimulation
Tone and vibration alerts
Preloaded TOPO U.S. 100k maps
Measures dogs' speed and distance traveled

An invaluable tool in the field, the Alpha 100 helps you achieve optimum performance from your sporting dogs. It combines proven Garmin GPS dog tracking with Tri-Tronics® electronic dog training technology. This easy-to-use integrated handheld system allows you to track and train your dogs in the field at a range of up to 9 miles (TT 15) or 4 miles (TT 15 mini) away, delivering their exact position as often as every 2.5 seconds.
With multiple Alpha 100 handhelds and TT™ 15 or TT 15 mini dog devices, pinpoint up to 20 dogs or hunters' exact positions on a large, glove-friendly touchscreen display even when they are out of sight. Because Alpha 100 comes preloaded with TOPO U.S. 100K maps, you'll always know your surroundings.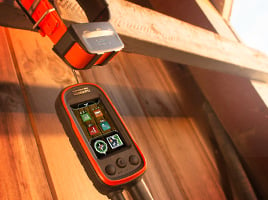 Track Your Dogs
Measure each dog's speed, distance and the direction being traveled. Plus, receive notifications when a dog is "Treed" or "On Point." A single Alpha 100 can track up to 20 dogs or fellow hunters by receiving signals from additional Alpha 100 handhelds, TT 15 and TT 15 mini dog devices (each sold separately). Or, choose tracking only with the new T 5 or T 5 mini dog devices. For competitions that don't allow stimulation, tone or vibe, the compatible T 5 or T 5 mini tracking devices are an excellent alternative. And, if you're using a vehicle to follow and retrieve your dogs, the Garmin DriveTrack™ 70 dog tracker and GPS navigator (sold separately) provides an easy-to-watch "big picture" solution. The 7-inch moving map display shows dog positions overlaid on TOPO contours or satellite image views – along with navigation cues that help point you to your dog's current location.
BirdsEye Satellite Imagery (subscription required)¹ allows you to have a better-than-real-life view of terrain, including roads, water, woods and more.
Train and Control
Two modes of level progression let you customize your training even further.
Alpha 100 helps you train and control your dogs to stop chasing unwanted game. Easy to access training buttons allow you to communicate separately to each dog through safe and effective features, including 18 levels of momentary and 18 levels of continuous stimulation or an audible tone or vibe command. Plus, a lockout setting is available to avoid accidental stimulation or tone.
Select from 2 stimulation modes to customize your training even further. Traditional stimulation allows you to make quick changes (low, medium and high) within a predetermined stimulation level (1 through 6), whereas linear stimulation allows progressively more stimulation from level 1 through level 18.
Extend Your Battery
When using the TT 15 or TT 15 mini, switch to Rescue Mode to prolong the battery life. When the TT 15 or TT 15 mini reaches approximately 25 percent battery life, it will automatically slow down the update rate at which it pings Alpha 100 from every 2.5 seconds to every 2 minutes. This mode conserves the battery life of the TT 15 or TT 15 mini, giving you more time to search for and locate your dog.
Plan Your Next Trip
Take charge of your next adventure with BaseCamp, software that lets you view and organize maps, waypoints, routes, and tracks. This free trip-planning software even allows you to create Garmin Adventures that you can share with friends, family or fellow explorers. BaseCamp displays topographic map data in 2-D or 3-D on your computer screen, including contour lines and elevation profiles. It also can transfer an unlimited amount of satellite images to your device when paired with a BirdsEye Satellite Imagery subscription.
Turn Your Computer Into a BaseStation for Tracking Dogs
Load your laptop with BaseStation software to turn it into a field control center for tracking multiple dogs and/or buddies (up to 20 Alpha units, TT 15 or T 5 dog devices). View real-time GPS information on the larger display of your computer, making it ideal for canine search and rescue teams. And because it's GPS and GLONASS, you'll get safe, secure and more effective tracking, even where Internet and cell phone service isn't available.